Welcome to the FF7 Remake (PS4, PS5) Wiki Guide! Learn about Final Fantasy 7 Integrade news, story campaigns, side stories, Weapons and Armor, tips & strategy guides!
FF7 - Walkthrough & Database
Final Fantasy 7 Remake Latest News & Updates
FF7 Remake Integrade Edition For PS5!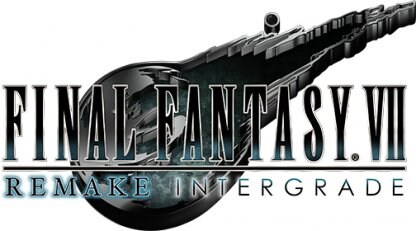 FF7 Remake Integrade Edition is an enhancement of the original FF7 Remake for PS5. It is scheduled for release June 10, 2021 and will provide additional visual enhancement & new contents like Yuffie episode for PS5 Platform.
Check out PS5 (Integrade) Guide here!
FF7 Series Announced At The Same Time
Yuffie Episode Newly Added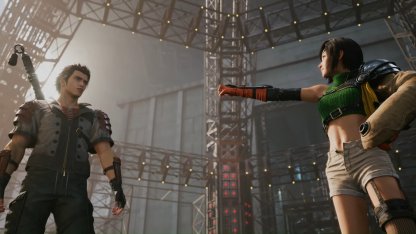 New content featuring Yuffie will be available with FF7 Remake Intregarde editon. Know as the Yuffie Episode, players can follow Yuffie on her new adventures.
Check out Yuffie Episode Guide here!
FF7 - Story & Quest Walkthrough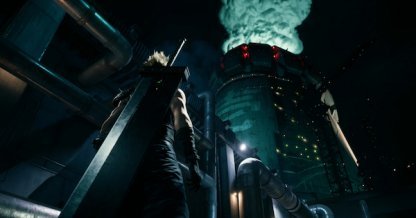 Main Story
Check Out List Of Story Walkthrough
Quests
Check Out All Quests List Here
FF7 - Guides On How To Beat Bosses
Main Story Bosses
All Enemy List
Optional Bosses (Summons)
Check Out All Boss Fight List
FF7 - All Characters List
FF7 - Beginners Tips & Useful Guides
FF7 - Database
Weapon List
All Weapons List
Armor & Accessory List
Check Out Best Armors & Accessories From Here
Materia List
| | |
| --- | --- |
| Magic | Support |
| Command | Summon |
| Independent | - |
Check Out All Materia List
Check Out All Hidden Materia Here
Summon Materia List
Check Out All Summon Materia List Here
Item List
Check Out All Items List
All Choices List
Check out All Choices & Branches Guide here!
All Mini Games List
Check Out the All Minigames List!
Final Fantasy 7 Remake - Release Date & Basic Info

Release Date
April 10, 2020
Platform

PS4

Developer
SQUARE ENIX CO., LTD.
Publisher
SQUARE ENIX CO., LTD.
Editions
Standard Edition, Deluxe Edition, 1st Class Edition
Price
$59.99(Standard Edition)
$79.99(Deluxe Edition)
$329.99(1st Class Edition)
Check out Best Game Ranking Here!
All 2020 Video Game Release Dates Shedule
Pre-Order Bonus
Raffle Entry For A New Watch
Pre-order #FinalFantasy VII Remake from the @SquareEnix Store for a chance to win a Sephiroth or Cloud Chronograph watch! Already pre-ordered? You're all set! #FF7R

Pre-order here: https://t.co/w3UOQTMNhd
Rules: https://t.co/wEfAjy1IRb
Alternate entry: https://t.co/bOZTt0MDnT pic.twitter.com/EIDwcWwXbv

— FINAL FANTASY 7 REMAKE (@finalfantasyvii)

January 30, 2020
Players who pre-purchase the game will be given the chance to win a new Chronograph watch! These unique watches will feature either a Cloud Strife or Sephiroth design! You can find out about the raffle's mechanics here.
Chocobo Chick Summon Materia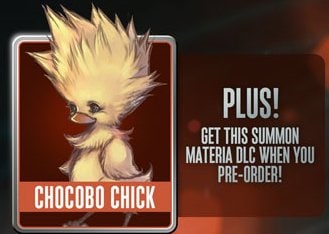 Players who pre-order the game will be awarded with an additional Chocobo Chick Summon Materia.
What Is Final Fantasy 7 Remake
Long-Awaited FF VII Is Back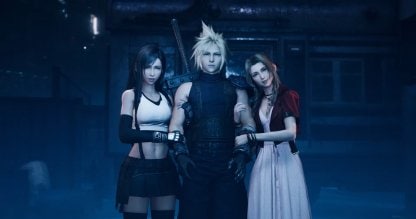 Since FFVII originally released in 1997, we've been patiently waiting for this moment. Final Fantasy 7 Remake will release on April 10th, 2020 for PS4. With the development team led by the original staffs of FF7, the timeless masterpiece will reborn with cutting edge graphic technology. Follow Cloud & Avalanche as they attempt to stop the Shinra Company from controlling the world!
Final Fantasy 7 Remake Gameplay Details
New Battle System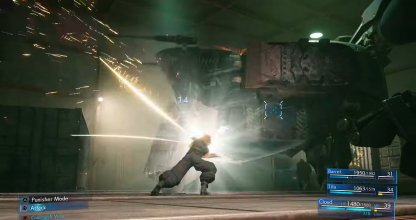 Battle system will be the mix of our beloved command-based and newly introduced real-time action. Somewhat similar to what you've experienced in previous FF games such as Final Fantasy XV.
Use Tactical Mode When Accessing Abilities
You will be able to access your abilities mid battle, allowing you to employ different techniques & strategies. While this is happening, time will slow down, allowing you to sift through your different abilities without worrying about getting hit!
Add Your Favorite Abilities as Shortcuts
You can assign your favorite abilities as shortcuts to certain buttons so you do not have to open the menu several times during fights. This streamlines the combat, giving way for more fast-paced action!
Take Control of Other Characters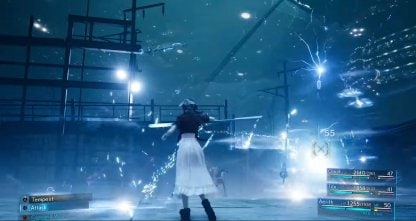 You will also be able to take control of other characters. A short section of the trailer shows this where Aerith is being controlled during a fight!
Platforming Levels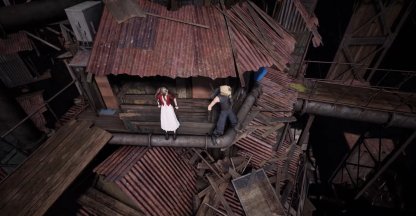 The trailer also featured some levels that require a bit of platforming. These include shimmying along narrow ledges, using pipes as monkey bars to traverse past cliffs, & more!
Several Minigames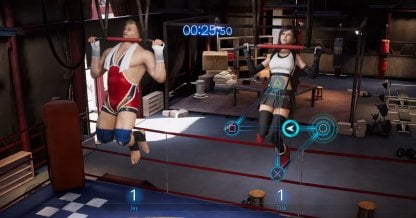 A segment of the trailer also showed different minigames such as darts, and exercises. You will need to press a correct sequence of button prompts to complete these minigames.
All Minigame List
Available Editions
Edition
Price
Included Contents
Standard Edition
$59.99
- Full Standard Edition Game
Deluxe Edition (Digital)
$79.99
- Full Standard Edition Game
- Digital Artbook
- Digital Mini Soundtrack
- Summon Materia DLC
- PS4 Dynamic Theme
Deluxe Edition (Physical)
$79.99
- Full Standard Edition Game w/ reversible cover
- Steelbook
- Deluxe Edition Package
- Hardback Artbook
- Mini Soundtrack CD
- Summon Materia DLC
1st Class Edition
$329.99
- Full Standard Edition Game w/ reversible cover
- Play Arts Kai Cloud Strife & Hardy Daytona Box Set
- Sepiroth Steelbook Case
- Hardback Artbook
- Mini Soundtrack CD
- Summon Materia DLC
Deluxe Edition (Digital)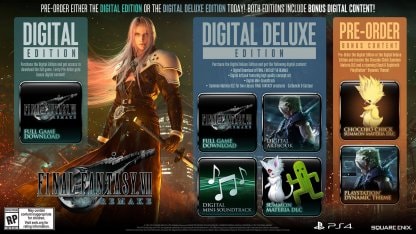 Players who purchase the deluxe edition digitally will be able to play the game along with some extra goodies! These include digital artbooks, soundtrack, extra summon Materia, and a dynamic PS4 theme!
Deluxe Edition (Physical)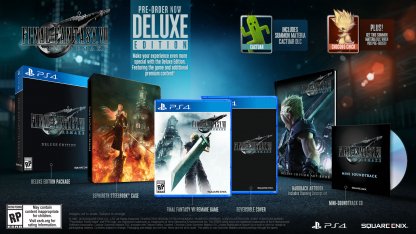 Players who opt for the physical version of the Deluxe Edition will receive the same benefits. The difference here is that they will get a physical artbook & soundtrack. Instead of a PS4 theme, they will get a steelbook case as well as a package with reversible cover!
1st Class Edition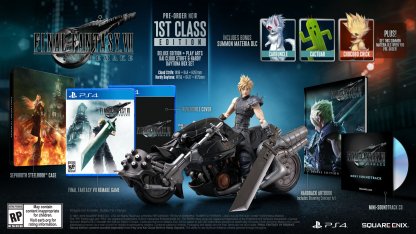 Players who buy the 1st class edition will receive all the rewards of the physical Deluxe Edition, as well as a Cloud Strife and Hardy Daytona figurine! This is a rare collector's item which can be displayed!
What Is Final Fantasy 7? - Story Summary
An Epic Adventure To Save The World
Mako—the discovery of this natural resource drawn directly from the planet's life force marked the dawn of a new era, and now the energy sustains the lives of people across the world. However, the Shinra Company has monopolized mako production, and in doing so established a powerful hegemony--its influence reaching the far corners of the globe.
Cloud, a former member of Shinra's military organization, SOLDIER, joins the anti-Shinra resistance group AVALANCHE, despite caring little for their motives. During one of the group's attempts to stop the company, they learn of the return of Sephiroth, Cloud's nemesis, and that with his reemergence, the planet is in greater danger than anyone had expected.
With the fate of the world riding on their success, Cloud and his allies set out to quell this deadly threat.
*Quoted from the Final Fantasy 7 Playstation Store page.