Check out Revali from Hyrule Warriors: Age of Calamity. Learn moves, combo, voice actor, best weapons, unique moves, moveset, how to unlock, attire and more!
Table of Contents title here
Check Out All Character List Here!
Revali - Profile & How To Unlock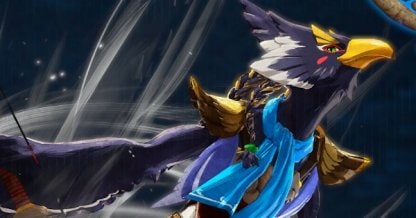 Voice Actor
Sean Chiplock
How To Unlock
Available by finishing his mission in Chapter 2.
Profile
A gifted archer who has mastered an aerial move previously thought impossible. While boastful, he has the skills to back up his claims. Now, he is entrusted with piloting Divine Beast Vah Medoh.
Revali - Combo & Moveset
Revali's Weapon Attacks
*Default moveset before upgrading with quests
Regular Attacks
[Y]→[Y]→[Y]

---

Midair Regular Attacks:


[Y]→[Y]→[Y]→[Y]
Strong Attacks
[X]
[Y]→[X]
[Y]→[Y]→[X]

---

Midair Strong Attacks:


[X]
[Y]→[X]
[Y]→[Y]→[X]x2
[Y]→[Y]→[Y]→[X]
Unique Action
[ZR] Take Flight.

Use [ZR] to land while flying. Grab an enemy with [X], then press [X] to unleash a special attack.
Revali's Sheikah Items
Revali - Quests To Upgrade
List Of Revali's Quests
| Name | Effect |
| --- | --- |
| Upgrading the Flight Range | Revali: Bonus Combo |
| The Lodge at Hebra Trailhead | Revali: +1 Bonus Hearts |
| A Fly-by-Night Operation | Revali: Bonus Combo |
| Beyond the Wall of Thunder | Revali: +1 Bonus Hearts |
Learn How To Unlock All Quests From Here
Revali - Best Weapon & Weapon Seal
Revali's Weapon
Weapon Types
Only one weapon type
Recommended Weapon & Weapon Seal
Weapon
Seal
TBD
Midair Attack Damage
Damage to Midair Enemies
Regular-Attack Damage
Learn More On Best Weapons From Here
Hyrule Warriors Age Of Calamity Related Guides
Back To Top Page
Story & Quest Guides
Useful Guides
Lists & Databases