Check out Hestu from Hyrule Warriors: Age of Calamity. Learn moves, combo, voice actor, best weapons, unique moves, moveset, how to unlock, attire and more!
Table of Contents title here
Check Out All Character List Here!
Hestu - Profile & How To Unlock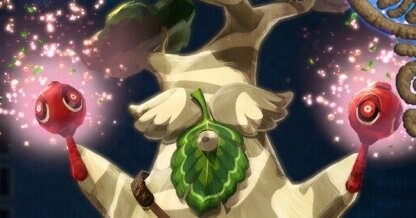 Voice Actor
Cristina "Vee" Valenzuela
How To Unlock
Clear Chapter 3 - Freeing Korok Forest
Profile
The musician of Korok Forest who loves to dance. He favors a set of maracas filled with Korok Seeds. Some believe his dancing possesses mystical power.
Hestu - Combo & Moveset
Hestu's Weapon Attacks
*Default moveset before upgrading with quests
Regular Attacks
[Y]→[Y]→[Y]→[Y]
Strong Attacks
[X]
[Y]→[X]
[Y]→[Y]→[X]
[Y]→[Y]→[Y]→[X]
Unique Action
[ZR] Call Korok friends.

Press [ZR], and the Koroks who come will fight alongside you for a bit.
Hestu's Sheikah Items
Hestu - Quests To Upgrade
List Of Hestu's Quests
| Name | Effect |
| --- | --- |
| Pinwheel, No-Spinwheel | Hetsu: Bonus Combo |
| Frown-Reversal Magic | Hetsu: Bonus Combo |
| Otherworldly Objects | Hetsu: +1 Bonus Hearts |
| Out of the Woods | Hestu: Bonus Combo |
Learn How To Unlock All Quests From Here
Hestu - Best Weapon & Weapon Seal
Hestu's Weapon
Weapon Types
Only one weapon type
Recommended Weapon & Weapon Seal
Weapon
Seal
TBD
Strong-Attack Damage
Special-Attack Charge Rate
Damage per 100 KOs
Learn More On Best Weapons From Here
Hyrule Warriors Age Of Calamity Related Guides
Back To Top Page
Story & Quest Guides
Useful Guides
Lists & Databases